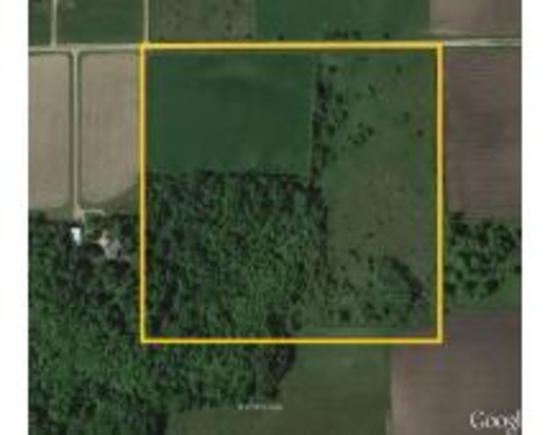 Eichers Real Estate Auction
Auction closed.
Eichers Real Estate Auction
Internet Premium:
See Special Terms for additional fees
Description
Land, 40 acres, Potential Home Site, Field, Pasture, Hunting Land
Here are a few pointers to help your ProxiBid experience work better for you.** The software works and looks best if you use Google Chrome or Firefox as your browser. Do not bid from a smart phone, iPad or tablet. Those items don't update as quickly as a desk top or laptop computer and it may appear you have the high bid when you actually may not. This is especially important while the auction is closing. The software has extended bidding. If someone bids on an item in the last seconds the closing time on that item will extend for 2 minutes. That will continue on that item until there is no activity for 2 minutes. If you are a new user or if you have a slower or unreliable internet connection, we recommend using the maximum bid feature. If you leave your maximum bid, the software will advance you as other people bid. If the bidding stops at an amount less than your maximum bid, then that is all you pay. Unlike other auction companies, we do not have access to your maximum bid, nor does anyone else. If picking up items in person, buyer is responsible for ensuring that all items on invoice have been picked up. Items left behind will either be disposed of or resold. Shipping will be done with a week or two. We pack things well and ship the best way possible. Shipping charges will be charged to you once we know much they are. We will charge the card you have on file with ProxiBid. Shipping charges are in the shipping information for each auction. Please read these. Thank you!
SALE TERMS
CASH,
$7,000 Non Refundable earnest Money
Remaining Balance Due on Closing on or before June 4th, 2019
2019 Real Estate Taxes all paid by seller
Quantity: 40
Great
Country Location
Located 2 miles North of Opole, MN on 125th Avenue, then Right and East on 450th Street 1 ... mile to the property located on the Right OR 1 ... mile South of North Prairie on 150th Avenue, then Left and East ... mile to the property on the right. (Follow Signs)
Located just East and adjacent to: 11253 450th St. Bowlus, MN 56314
Legal Description:
The NE ... of the NW ..., Section 33, Brockway Twp. 127N Range 29W, Stearns County, MN. (Property has been surveyed)
Property Features:
Excellent potential homesite

15 Acres Proven Excellent Upland Woodland Hunting

Great Country Location

Easy Commute to St. Cloud

13 Acres good Field

12 Acres upland pasture

Holdingford School District
Property Preview:
5:30 ? 7:30pm Tuesday April 30th, AND 5:30 ? 7:30pm Friday May 10th, 2019
Or by Appointment
You may view the 40 acre property at your own leisure
Please be respectful of adjoining properties
$

5,000.00

x 40 = $

200,000.00

Total