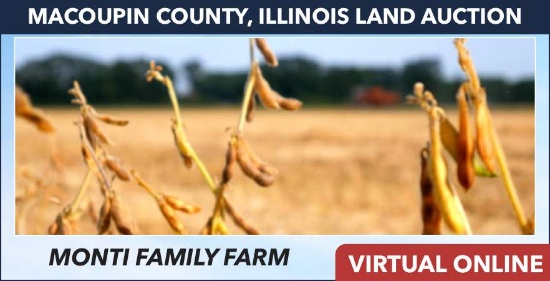 Macoupin County, IL Land Auction - Monti
Tuesday, December 1, 2020 | 1:00 PM Central
to bid until the live auction begins!
Macoupin County, IL Land Auction - Monti
Tuesday, December 1, 2020 | 1:00 PM Central
to bid until the live auction begins!
Internet Premium:
See Special Terms for additional fees
Description
89.772 Surveyed Acres • 1 Tract

The Monti Family Farm is located at the east edge of Standard City, IL or approx. 3 miles south of Nilwood, IL or 10 miles northeast of Carlinville, IL. The property is further described as being located in the south half of Section 33, T11N•R6W, Nilwood Township, Macoupin, IL. This outstanding highly productive farm is nearly 100% tillable.

Auction Managers:
John Borrowman (217) 430-0645
John Sullivan (217) 847-2160
Lot # 0 (Sale Order: 1 of 2)
The Monti Family farm has been surveyed and will sell by the acre based on 89.772 acres.
Immediately following the auction, the successful buyer will be required to enter into a written purchase agreement with the seller and pay ten percent (10%) of the bid price. The balance of the bid price will be due at the time of closing on or before Tuesday, January 5, 2021. Bidding is NOT contingent upon financing. Title insurance in the full amount of the purchase price will be provided by the seller. The 2020 real estate taxes, due and payable in 2021 will be paid by the sellers. The 2021 & all subsequent real estate taxes will be the responsibility of the new buyer(s). Possession will be given at the time of closing. Farm sells free and clear for the 2021 crop year.
All announcements sale day shall take precedence over any prior advertising either written or oral. The information in this brochure is believed to be accurate; however, no liability for its accuracy, errors or omissions is assumed. All lines drawn on maps, photographs, etc. are approximate. Buyers should verify the information to their satisfaction. There are no expressed or implied warranties pertaining to the property. This real estate is being sold "as is".


CLICK HERE TO VIEW SURVEY PLAT

CLICK HERE TO VIEW TITLE COMMITMENT

CLICK HERE TO VIEW PURCHASE AGREEMENT


Monti Family Farm
Judith K. Bloome, Joyce L. Pocklington & David Monti

Closing & Title Work By:
Prairie State Title & Escrow Services
201 N. Main Street
Brighton, IL
618.372.8424

Auction Managers: John Borrowman (217) 430-0645 & John Sullivan
Lot # 1 (Sale Order: 2 of 2)
Quantity: 90
FSA figures indicate this tract has 89.44 cropland acres - nearly 100% tillable.
Soil Productivity Index: 121.4
Soil types include: Herrick, Bunkum-Atlas, Virden & Keller.
Road access along the east side by Bloome Rd.
Farmers & investors - excellent opportunity to purchase a highly productive, nearly all tillable farm.
The purchase agreement will be adjusted to a quantity of 89.772 acres times the winning bid value for the final purchase amount. The bidding platform rounds the quantity value.