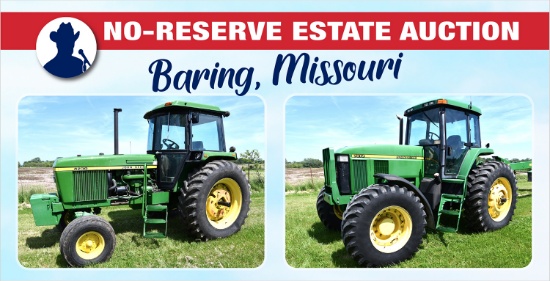 Ring 1: No-Reserve Estate Auction
Auction closed.
Ring 1: No-Reserve Estate Auction
Description
Selling tractors, hay equipment, seeding equipment, farm equipment, shop items, ATV & lawn mower. You will find the Scott farm to be one of the best maintained and well kept farms to sell in northeast Missouri in 2020!

Items are located at the farm near Baring, Missouri

Successful bidders on the equipment and household items can plan to pickup their items with Sullivan Auctioneers assistance on Monday & Tuesday, August 10th & 11th from 9:00 a.m. - 3:00 p.m. each day. Note... No load out on Saturday or Sunday, August 8th & 9th (with or without assistance). Once again, the family does not want anyone loading out any equipment or household items throughout the weekend.