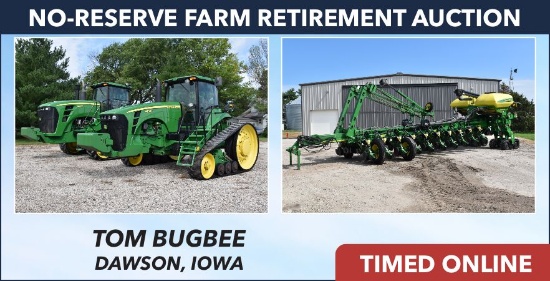 Ring 1: No-Reserve Farm Retirement Auction -Bugbee
Auction closed.
Ring 1: No-Reserve Farm Retirement Auction -Bugbee
Description
Selling tractors & skid loader, AFS equipment, planting & tillage equipment, semi & grain trailer, pickups & trailers, grain handling equipment, farm equipment, tools and household items.

Bidding closes Tuesday, August 10, 2021 at 10:00 A.M.
Timed online auction format

Inspection Date: Friday, August 6, 2021 from 10:00 A.M. – 3:00 P.M.

Loadout: Wednesday, August 11, 2021 from 8:00 A.M. - 4:00 P.M.

Items are located at the farm near Dawson, Iowa
Physical Address: 13846 200th St., Dawson, IA 50066 (40 miles NW of Des Moines, IA)
Directions:At the south edge of Dawson, IA go south on Co. Rd. P46 (D Ave.) 7 miles to 200th St. turn left or east and proceed ¾ of a mile to the property.

Tom Bugbee – Owner

Auctioneers Note: Make plans now for this outstanding farm retirement auction for Tom Bugbee. After a lifetime of farming, Tom has decided to slow down. You will find his equipment in tip top condition that has been stored inside and has been meticulously cared for. For any equipment questions please feel...
Show more
Show Less