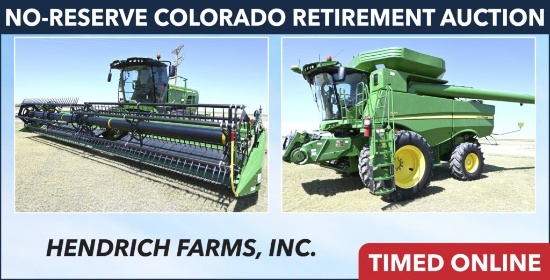 Ring 2 - No-Reserve Colorado Retirement - Hendrich
Lots start closing Thursday, December 10, 2020 | 9:30 AM Mountain
Until lots start closing.
Ring 2 - No-Reserve Colorado Retirement - Hendrich
Lots start closing Thursday, December 10, 2020 | 9:30 AM Mountain
Until lots start closing.
Description
Selling tractors, combines & heads, semis & trailers, grain trucks, pickup trucks & trailers, windrower, planter & seeding equipment, sprayer & tender trailers, fuel trailer, grain handling equipment, farm equipment, JD AMS equipment, skidsteer, forklift & attachments, dozer, Gator & lawn Mower, fuel tanks, major shop tools and farm support items.

This will be a timed, online auction – no onsite bidding
Bidding Closes: Thursday, December 10, 2020 at 9:30 A.M. MST

Items are located at the farm, near Akron, Colorado (Akron is located east of Fort Morgan, CO)
Physical Address: 21526 CR 26, Akron, CO 80720

Hendrich Farms, Inc.
Equipment Questions: Tom Hendrich, President (970) 554-0978

Auction Managers: Cody Holst (217) 242-8747 and Kyle Ferguson (309) 255-8353

This is a tremendous line of equipment. Hendrich Farms, Inc. have several large machine sheds and a heated shop; therefore, every item has been shedded.