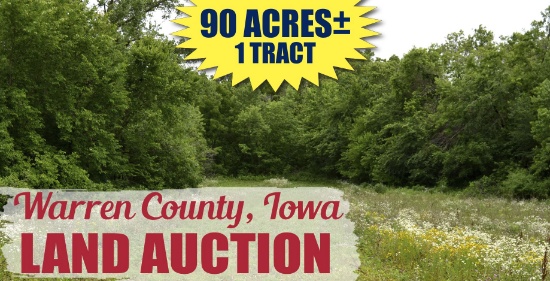 Warren County, IA Land Auction
Monday, August 3, 2020 | 10:00 AM Central
Auction closed.
Warren County, IA Land Auction
Monday, August 3, 2020 | 10:00 AM Central
Internet Premium:
See Special Terms for additional fees
Description
Mark your calendars now for this upcoming Warren County, Iowa land auction. This farm has it all, including productive tillable farmland, income producing CRP, highly attractive recreational acreage and marketable timber. This parcel is a highly managed whitetail farm with permanent planting of native grasses and Imperial whitetail clover. The farm is generally located west of Lacona, Iowa. This is an auction that you will not want to miss!

ACRES: 90 Acres+/- (1 Tract)

LOCATION: The Sapper Farm is located in Section 20, White Breast Township, Warren County, Iowa.

AUCTION TYPE: Virtual Online Only Auction


Lot # 0 (Sale Order: 1 of 2)

The Sapper Farm will be sold in one individual tract based on the advertised acres.  The Warren County, Iowa farm will be sold on a price per acre basis.  Bidding is NOT contingent upon financing.
Ten (10%) percent of the bid price to be due on the day of sale with the balance due in approximately 30 days, on or before Monday, September 3, 2020 upon delivery of a merchantable abstract and deed. Immediately following the auction, the successful bidder(s) shall enter into a written agreement with the seller. The real estate taxes will be prorated to the date of closing. Full possession will be given at the time of closing on both tracts. There are no hunting leases associated with either farm. The CRP payment will be prorated to the  date of a recorded deed on both tracts.
All announcements sale day shall take precedence over any prior advertising either written or oral. The information in this brochure is believed to be accurate; however, no liability for its accuracy, errors or omissions is assumed. All lines drawn on maps, photographs, etc. are approximate. Buyers should verify the information to their satisfaction. There are no expressed or implied warranties pertaining to the property. This real estate is being sold "as is".
SPECIAL PROVISIONS
This real estate is selling subject to public road easements and all other easements of record.
All fences and fence lines shall be governed by the Warren County and State of Iowa fence line rules and regulations.
It will be the responsibility of the new buyer(s) to show proof of purchase to the Warren County FSA Office so that he/she will receive any future government payments including the prorated share of the CRP payments. Buyers will be required to abide by said CRP contracts and hold sellers harmless of any contract non-compliance or damages.
If in the future a site clean up is required, it will be at the expense of the buyer.

CLICK HERE TO VIEW PURCHASE AGREEMENT

Representing Attorney:
Rick Lynch
Lynch Law Office
207 S Washington St.,
Bloomfield, IA 52537
Phone: (641) 664-3188

Auction Manager: John Probasco (641) 856-7355
Lot # 1 (Sale Order: 2 of 2)
Quantity: 91

TRACT INFORMATION
FSA information should indicate 36.80 acres tillable, including 24.03 acres in CRP with a payment of $233.61 per acre expiring in 2028. The remainder of the tillable acres are currently in hay production.
Soils include Arispe, Mystic & Grundy.
CSR2 is 51.5 on the tillable acres.
The balance of this farm represents attractive recreational acreage and marketable timber.
Access is on the west via a 30' deeded lane off of 200th Ave.
The purchase agreement will be adjusted to a quantity of 91 acres times the winning bid value for the final purchase amount. The bidding platform rounds the quantity value.
$

2,950.00

x 91 = $

268,450.00

Total