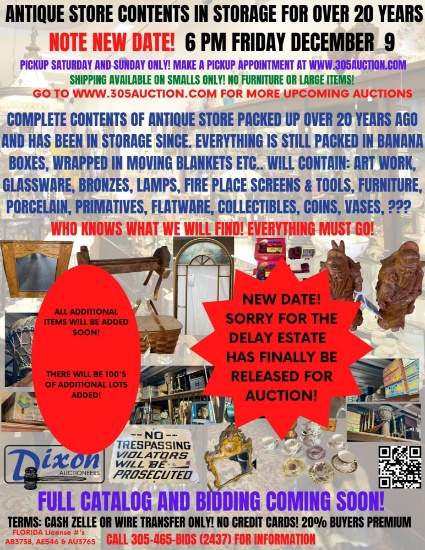 Friday, December 9
6:00 PM Eastern
Miami, FL
SORRY FOR THE DELAY. ESTATE HAS FINALLY BEEN RELEASED FOR SALE! UPDATED LOTS AND PICTURES WILL BE UPLOADED SHORTLY! ANTIQUE STORE PACKED UP 20 YEARS 100'S OF ADDITIONAL LOTS WIL BE ADDED...
3 Days 21 Hours
to bid until the live auction begins!
Start Bidding
Tuesday, December 13
6:00 PM Eastern
PEMBROKE PARK, FL
ALL LOTS WILL BE ADDED SOON! FULLFILLMENT COMPANY SAID SELL EVERYTHING 150+ LOTS TO BE SOLD BAR STOOLS END TABLES COFFEE TABLES BED SETS PILLOWS LEATHER APRONS SIDE TABLES NIGHT...