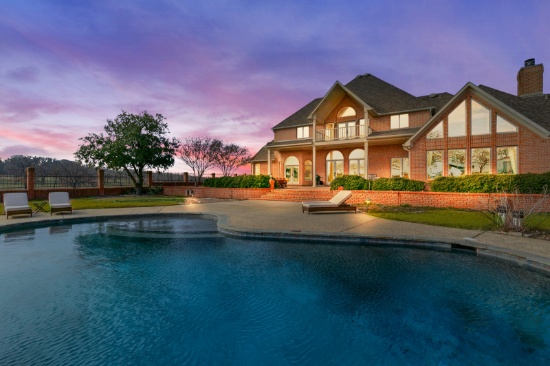 Selling the 85 acre Quarter Oaks Ranch in 3 Tracts
Saturday, December 14, 2019 | 11:00 AM Central
to bid until the live auction begins!
Internet Premium:
10.00%
See Special Terms for additional fees
Description
The Quarter Oaks Ranch is arguably the most incredible estate home with equine facilities in North Texas. The 85 acre ranch will be offered for sale in 3 separate Tracts, you can buy one Tract, any combination of Tracts or the entire ranch on December 14th.
Lot # 1 (Sale Order: 1 of 3)
LIVE AUCTION!!! - Saturday, December 14, 2019 at 11am CST Auction will be held, on-site, at 2875 FM 3092 in Gainesville, Texas 85 Total Acres, Buy Any Tract, Any Combin...moreation of Tracts or Buy it All!!! REAL PROPERTY: Selling the 85 Acre QUARTER OAK RANCH located on a private road off FM 3092. This is arguably one of the most incredible estate homes with equine facilities in North Texas. For the horse enthusiast it is centrally located just minutes from Gainesville and I-35 placing you one hour to Fort Worth and 2 hours to Oklahoma City with easy access to DFW Airport and WinStar Casino. TRACT 1: Custom 5 bedroom, 5 bath, 5858' brick home with 3 car garage and heated pool/spa. Beautifully landscaped with a large stock pond, 11 stall Show Barn including apartment, tack room, wash rack, stocks, Nelson automatic waterers in pastures and Kaiser improved ground 60' round pen on 15 acres. TRACT 2: Indoor Arena (125' x 250' with Kaiser Arena Specialist improved ground), 44 oversized stall with automatic waterers, 4 apartments (one efficiency, two studios and one executive with two bedrooms, two baths), two large tack rooms with rotating saddle racks, 4 wash racks, restroom, laundry room and break room - ALL UNDER ONE ROOF on 13.4 acres. Also a gated entrance, barn/workshop with 9 stalls and large stock pond TRACT 3: 56.9 acres of pasture with a nice mix of oak and pecan trees, running creek and a Kaiser improved ground loping pad LIVE AUCTION: The real property will be offered for sale in a live, audible auction, conducted by a licensed Auctioneer on Saturday, December 14, 2019 at 11:00am CST. The auction will be conducted on-site, at the ranch located 2875 FM 3092 in Gainesville, Texas. On-site registration will begin at 9:00am on the day of the auction. The property will sell "AS IS". It is the sole responsibility of a potential Buyer to inspect and research the property prior to the auction. REAL ESTATE TERMS: A 10% Buyer's Premium will be added to the high bid attained at auction to constitute the total contract price. The non-refundable 10% Buyer's Premium will be paid the day of the auction when the contract is executed by cash, cashier's check or a personal/business check will be accepted if accompanied by a "Bank Letter of Guarantee". The balance will be due at Closing, on or before, Friday, January 31, 2020 at 5:00pm CST. Buyer is responsible to attain his or her own financing prior to closing. FINANCING AVAILABLE: Lone Star Ag Credit will offer Financing under certain conditions. APPROVAL REQUIRED PRIOR TO THE AUCTION!!! Call Craig Hartman for financing information. (940.395.6069) ONLINE BIDDING FOR REAL ESTATE ONLY: If you are unable to attend the live auction held at ...you can participate in real-time online bidding that will be available through PROXIBID beginning at 10:30am CDT on the day of the auction. Pre-registration with www.proxibid.com is required. AGENT INCENTIVE: Real Estate Agents are eligible to receive a 2% commission. Bring your Buyer and co-register the day of the auction. The Real Estate Agent of the successful Buyer will receive a 2% commission of the auction strike price to be paid the day of Closing. Real Estate Agents participating as a Principal to the transaction or are an Immediate Family Member of the Buyer are ineligible for the Agent Incentive. NOTICE: This property WILL NOT be pre-priced and WILL NOT be sold prior to the date of the Auction. Therefore, as a prospective Buyer, you are guaranteed your opportunity to purchase this property on December 14th. OPENING BIDS: Tracts 1 and 2 will have opening bids of $250,000 and Tract 3 will have an opening bid of $2500/acre REAL ESTATE PREVIEW: These properties my be viewed by appointment only. Call to schedule an appointment. Contact Tony Langdon at 214.876.5950 for additional information or go to http://tonylangdon.com/realestate/upcomingauctions.html For updated information on Upcoming Auctions you can also follow Tony Langdon on Twitter, Instagram and Linkedin, just click the links below: https://twitter.com/tonylangdon https://www.instagram.com/tonylangdon.auctioneer/ https://www.linkedin.com/in/tony-langdon-83254776/
Lot # 2 (Sale Order: 2 of 3)
LIVE AUCTION!!! - Saturday, December 14, 2019 at 11am CST Auction will be held, on-site, at 2875 FM 3092 in Gainesville, Texas 85 Total Acres, Buy Any Tract, Any Combin...moreation of Tracts or Buy it All!!! REAL PROPERTY: Selling the 85 Acre QUARTER OAK RANCH located on a private road off FM 3092. This is arguably one of the most incredible estate homes with equine facilities in North Texas. For the horse enthusiast it is centrally located just minutes from Gainesville and I-35 placing you one hour to Fort Worth and 2 hours to Oklahoma City with easy access to DFW Airport and WinStar Casino. TRACT 1: Custom 5 bedroom, 5 bath, 5858' brick home with 3 car garage and heated pool/spa. Beautifully landscaped with a large stock pond, 11 stall Show Barn including apartment, tack room, wash rack, stocks, Nelson automatic waterers in pastures and Kaiser improved ground 60' round pen on 15 acres. TRACT 2: Indoor Arena (125' x 250' with Kaiser Arena Specialist improved ground), 44 oversized stall with automatic waterers, 4 apartments (one efficiency, two studios and one executive with two bedrooms, two baths), two large tack rooms with rotating saddle racks, 4 wash racks, restroom, laundry room and break room - ALL UNDER ONE ROOF on 13.4 acres. Also a gated entrance, barn/workshop with 9 stalls and large stock pond TRACT 3: 56.9 acres of pasture with a nice mix of oak and pecan trees, running creek and a Kaiser improved ground loping pad LIVE AUCTION: The real property will be offered for sale in a live, audible auction, conducted by a licensed Auctioneer on Saturday, December 14, 2019 at 11:00am CST. The auction will be conducted on-site, at the ranch located 2875 FM 3092 in Gainesville, Texas. On-site registration will begin at 9:00am on the day of the auction. The property will sell "AS IS". It is the sole responsibility of a potential Buyer to inspect and research the property prior to the auction. REAL ESTATE TERMS: A 10% Buyer's Premium will be added to the high bid attained at auction to constitute the total contract price. The non-refundable 10% Buyer's Premium will be paid the day of the auction when the contract is executed by cash, cashier's check or a personal/business check will be accepted if accompanied by a "Bank Letter of Guarantee". The balance will be due at Closing, on or before, Friday, January 31, 2020 at 5:00pm CST. Buyer is responsible to attain his or her own financing prior to closing. FINANCING AVAILABLE: Lone Star Ag Credit will offer Financing under certain conditions. APPROVAL REQUIRED PRIOR TO THE AUCTION!!! Call Craig Hartman for financing information. (940.395.6069) ONLINE BIDDING FOR REAL ESTATE ONLY: If you are unable to attend the live auction held at ...you can participate in real-time online bidding that will be available through PROXIBID beginning at 10:30am CDT on the day of the auction. Pre-registration with www.proxibid.com is required. AGENT INCENTIVE: Real Estate Agents are eligible to receive a 2% commission. Bring your Buyer and co-register the day of the auction. The Real Estate Agent of the successful Buyer will receive a 2% commission of the auction strike price to be paid the day of Closing. Real Estate Agents participating as a Principal to the transaction or are an Immediate Family Member of the Buyer are ineligible for the Agent Incentive. NOTICE: This property WILL NOT be pre-priced and WILL NOT be sold prior to the date of the Auction. Therefore, as a prospective Buyer, you are guaranteed your opportunity to purchase this property on December 14th. OPENING BIDS: Tracts 1 and 2 will have opening bids of $250,000 and Tract 3 will have an opening bid of $2500/acre REAL ESTATE PREVIEW: These properties my be viewed by appointment only. Call to schedule an appointment. Contact Tony Langdon at 214.876.5950 for additional information or go to http://tonylangdon.com/realestate/upcomingauctions.html For updated information on Upcoming Auctions you can also follow Tony Langdon on Twitter, Instagram and Linkedin, just click the links below: https://twitter.com/tonylangdon https://www.instagram.com/tonylangdon.auctioneer/ https://www.linkedin.com/in/tony-langdon-83254776/
Lot # 3 (Sale Order: 3 of 3)
Quantity: 57
LIVE AUCTION!!! - Saturday, December 14, 2019 at 11am CST Auction will be held, on-site, at 2875 FM 3092 in Gainesville, Texas 85 Total Acres, Buy Any Tract, Any Combin...moreation of Tracts or Buy it All!!! REAL PROPERTY: Selling the 85 Acre QUARTER OAK RANCH located on a private road off FM 3092. This is arguably one of the most incredible estate homes with equine facilities in North Texas. For the horse enthusiast it is centrally located just minutes from Gainesville and I-35 placing you one hour to Fort Worth and 2 hours to Oklahoma City with easy access to DFW Airport and WinStar Casino. TRACT 1: Custom 5 bedroom, 5 bath, 5858' brick home with 3 car garage and heated pool/spa. Beautifully landscaped with a large stock pond, 11 stall Show Barn including apartment, tack room, wash rack, stocks, Nelson automatic waterers in pastures and Kaiser improved ground 60' round pen on 15 acres. TRACT 2: Indoor Arena (125' x 250' with Kaiser Arena Specialist improved ground), 44 oversized stall with automatic waterers, 4 apartments (one efficiency, two studios and one executive with two bedrooms, two baths), two large tack rooms with rotating saddle racks, 4 wash racks, restroom, laundry room and break room - ALL UNDER ONE ROOF on 13.4 acres. Also a gated entrance, barn/workshop with 9 stalls and large stock pond TRACT 3: 56.9 acres of pasture with a nice mix of oak and pecan trees, running creek and a Kaiser improved ground loping pad LIVE AUCTION: The real property will be offered for sale in a live, audible auction, conducted by a licensed Auctioneer on Saturday, December 14, 2019 at 11:00am CST. The auction will be conducted on-site, at the ranch located 2875 FM 3092 in Gainesville, Texas. On-site registration will begin at 9:00am on the day of the auction. The property will sell "AS IS". It is the sole responsibility of a potential Buyer to inspect and research the property prior to the auction. REAL ESTATE TERMS: A 10% Buyer's Premium will be added to the high bid attained at auction to constitute the total contract price. The non-refundable 10% Buyer's Premium will be paid the day of the auction when the contract is executed by cash, cashier's check or a personal/business check will be accepted if accompanied by a "Bank Letter of Guarantee". The balance will be due at Closing, on or before, Friday, January 31, 2020 at 5:00pm CST. Buyer is responsible to attain his or her own financing prior to closing. FINANCING AVAILABLE: Lone Star Ag Credit will offer Financing under certain conditions. APPROVAL REQUIRED PRIOR TO THE AUCTION!!! Call Craig Hartman for financing information. (940.395.6069) ONLINE BIDDING FOR REAL ESTATE ONLY: If you are unable to attend the live auction held at ...you can participate in real-time online bidding that will be available through PROXIBID beginning at 10:30am CDT on the day of the auction. Pre-registration with www.proxibid.com is required. AGENT INCENTIVE: Real Estate Agents are eligible to receive a 2% commission. Bring your Buyer and co-register the day of the auction. The Real Estate Agent of the successful Buyer will receive a 2% commission of the auction strike price to be paid the day of Closing. Real Estate Agents participating as a Principal to the transaction or are an Immediate Family Member of the Buyer are ineligible for the Agent Incentive. NOTICE: This property WILL NOT be pre-priced and WILL NOT be sold prior to the date of the Auction. Therefore, as a prospective Buyer, you are guaranteed your opportunity to purchase this property on December 14th. OPENING BIDS: Tracts 1 and 2 will have opening bids of $250,000 and Tract 3 will have an opening bid of $2500/acre REAL ESTATE PREVIEW: These properties my be viewed by appointment only. Call to schedule an appointment. Contact Tony Langdon at 214.876.5950 for additional information or go to http://tonylangdon.com/realestate/upcomingauctions.html For updated information on Upcoming Auctions you can also follow Tony Langdon on Twitter, Instagram and Linkedin, just click the links below: https://twitter.com/tonylangdon https://www.instagram.com/tonylangdon.auctioneer/ https://www.linkedin.com/in/tony-langdon-83254776/