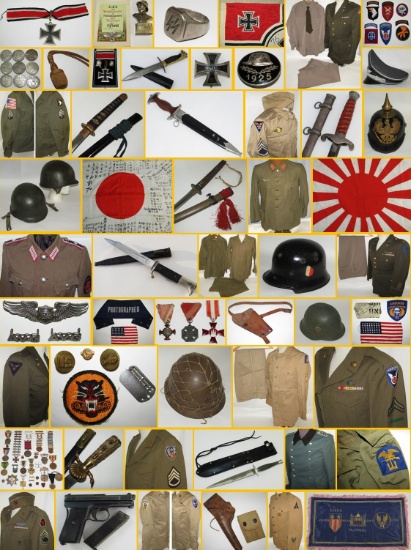 MILITARY COLLECTIBLES AUCTION DEC. 6, 2022 @4PM
Tuesday, December 6, 2022 | 4:00 PM Eastern
Auction closed.
MILITARY COLLECTIBLES AUCTION DEC. 6, 2022 @4PM
Tuesday, December 6, 2022 | 4:00 PM Eastern
Internet Premium:
15% - 20%
See Special Terms for additional fees
Description
***** EXTREMELY IMPORTANT NOTE:*****"ANY AND ALL ITEMS OFFERED IN THIS CATALOG ASSOCIATED TO THE THIRD REICH ARE OFFERED AS HISTORICAL ARTIFACTS ONLY AND WERE CAPTURED BY AND/OR SURRENDERED TO WW2 ALLIED SOLDIERS AND BROUGHT BACK AS VICTORY SOUVENIRS. THESE ARE THE SAME PROUD WW2 VETERANS THAT RISKED THEIR LIVES IN THE NAME OF WORLDWIDE FREEDOM, SOME NEVER TO COME HOME. AFTER MARCHING THOUSANDS OF MILES INTO EUROPE TO LIBERATE CONCENTRATION CAMPS AND CLAIMING VICTORY, THESE ITEMS WERE THE SPOILS OF WAR! THERE IS ABSOLUTELY NO INTENT TO PROMOTE ANY IDEOLOGY OF THE THIRD REICH, FASCISM OR SOCIALISM. IF ANYONE FEELS THAT THESE HISTORICAL ITEMS RELATED TO THE THIRD REICH ARE OFFENSIVE, PLEASE DO NOT OPEN CATALOG LINKS , AS THEY SHOW DETAILED PHOTOS OF THESE ITEMS"

THIS AUCTION WILL BE FEATURING: WW1/WW2 GERMAN MILITARY COLLECTIBLES-WW1/WW2 US MILITARY COLLECTIBLES-BADGES, MEDALS, HEADGEAR, DAGGERS, FLAGS, AIRBORNE, PATCHES, INSIGNIA, AVG FLYING TIGERS WINGS, UNIFORMS, M1910/14 MAUSER PISTOL WITH TANK DESTROYER VET BRING BACK PAPER, SAMURAI SWORD COLLECTION,...
Show more
Show Less