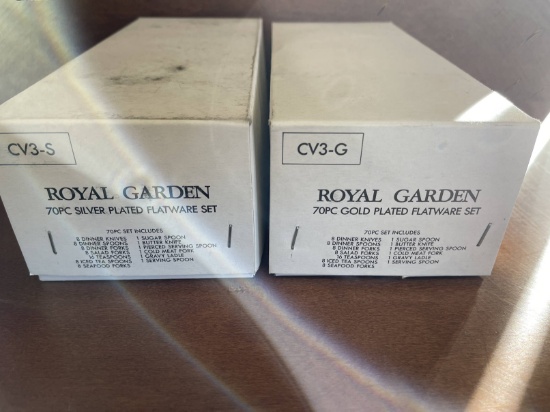 140 Piece 24K Gold Plated & Silver Plated Flatware
Bidding ends Thursday, December 30, 2021 | 6:00 PM Mountain
Auction closed.
140 Piece 24K Gold Plated & Silver Plated Flatware
Bidding ends Thursday, December 30, 2021 | 6:00 PM Mountain
Internet Premium:
17%
See Special Terms for additional fees
Description
This is a discontinued vintage item, Brand New, found in a storage unit in Scottsdale Arizona this month, still in the box and plastic, no longer available at the Estia Company. We show whats in the box but we tried to not disturb the contents at all, so it's still as if it was straight from Estia. The full 140 contents are here undisturbed. The box weighs 13 pounds, so shipping will be a factor, just to make you aware.

Your chance to get ahold of a legacy item brand new, vintage, that you would want to leave to your children and pass on to your heirs.
ROYAL GARDEN 140-Piece 24 Karat GOLD & SILVER Plated Flatware Sets From ESTIA. ROYAL GARDEN 70-PIECE SILVER PLATED FLATWARE SET IN ESTIA 70-Piece Set Includes 8 Dinner kn
...more