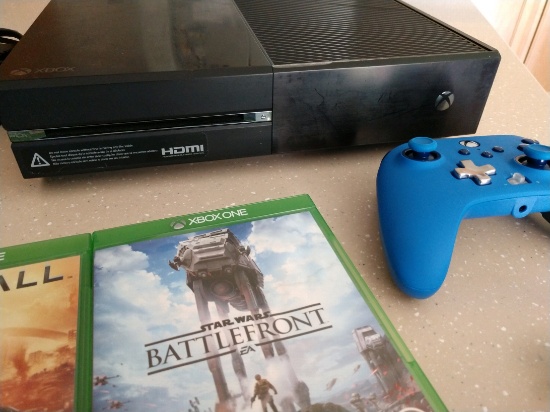 Xbox One Video Game System With Controllers Games
Bidding ends Thursday, September 30, 2021 | 6:30 PM Pacific
Auction closed.
Xbox One Video Game System With Controllers Games
Bidding ends Thursday, September 30, 2021 | 6:30 PM Pacific
Internet Premium:
17%
See Special Terms for additional fees
Description
Xbox In great shape, works perfectly, Xbox One is a state-of-the-art gaming console, a generation TV and movie system and a whole lot more. Gone are the days of switching inputs on your TV to play a game or watch a movie. With Xbox One, you can quickly jump from TV to movies to music to a game. Just with the sound of your voice. With Xbox One, games are so lifelike, you'll swear they're real. Immerse yourself in cinematic worlds with characters that are more human than ever. And reach into television, sports, music, and even the web in ways you never imagined possible. Xbox One gets to know you. It learns what you like and what you don't. Say goodbye to the days of one-size-fits-all entertainment. Xbox One brings you closer to the entertainment you love and the people you care about. You can chat with your friends on Skype while watching football on TV. Or show off your best game highlights instantly with game DVR. And because Xbox One is powered by the cloud, you won't have to wait around for game updates. It looks like the living room can finally start living up to its name.
Black Xbox One Console works great and has a controller and 3 games. Star Wars Battlefield #1, Titanfall and NBA 2K 15. Xbox One is a state-of-the-art gaming console, a g
...more