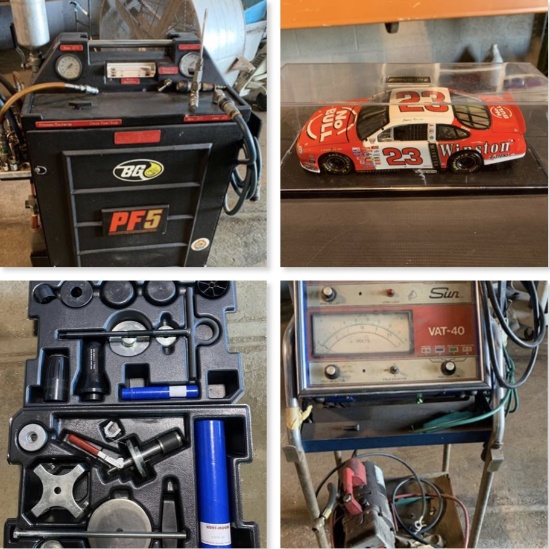 Automotive tools and more
Auction closed.
Automotive tools and more
Description
Flush Adapters, Thread Repair Kit, Fuel Diagnostic Kit, Surface tool, GM Transfer Case Tools, Home Link Tester, Shim Selectors, D.O.D. Tester, Angle Meter, Crank Shaft Hum Install/remover, Keyless Entry Tester, Power steering pressure tester, 5 speed transaxle special service tool set, Sir Load Tool Case, Vehicle Data Recorder, Engine Overhaul Tool Kit, GETRAG F23 Transmission Tool Kit, GM Transfer Case Tools, Rod Bearing Checking Tool, LTG Engine Service Tools, Universal Breakout Box, 3.4 liter v6 dual overhead cam engine special service tools, Quad 4 DOHC engine special service tool set, W- Car Special Tool Set, Robinair a/c compressor tool kit Gm 6 cyl., Fuel Line Shut Off Adapter, Control Solenoid Test Plate, Gen 3 V8 Base Engine Service Tool Kit, Electro Vacuum Programmer, Transaxle Shim Selector Kit, Pinion Setting Gauge, Column Load Tool, Band Apply Pin Gauge, Cruise Control Tester, Brake Line Flaring Tool, Pressure Vacuum Gauge,Generator Instrument Panel Tester, Piston Ring Compressor, Manual Trans Axle Shim Selector, 5 Gas Analyzer, Volt Amp Tester, Inflatable Restraint...
Show more
Show Less