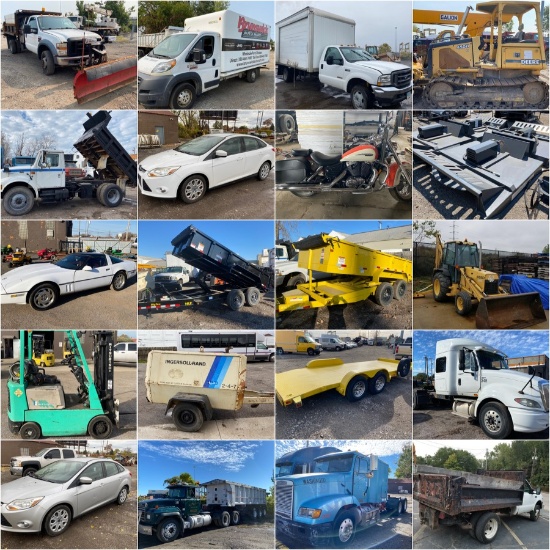 New Trailer, Trucks, Attachments & Equip & MORE!
Auction closed.
New Trailer, Trucks, Attachments & Equip & MORE!
Description
**NEW BIG TEX TANDEM DUMP TRAILER INVENTORY. Check them out in the catalog link!

Small Tools/Equipment: Multiple Miller welders, Lincoln welder, New Hilti hardware and fasteners, New Dewalt Combo Tool Kits, New Husky Mechanics Tool sets, JLG Electric man lift, New ratcheting wrench sets, Neon Beer signs, Traulsen Co double door freezer, Pepsi Cola double door beverage cooler, Metal tool cabinets, Vutek Co portable push camera setup, Ridgid NaviTrack Line Locator, New Champion Global Power Equipment Dual Fuel 3400 watt Generator/Inverter, Stihl/Husqvarna gas chainsaws, air compressors, Log-All Tripod Manhole Winch Model 3011, (6) Rolling Steel Parts Racks, (7) Aluminum Rolling Parts Racks, Trane Co Packaged Hvac unit Down flow or horizontal discharge natural gas heat 460 V three phase,

NEW Wolverine Co Skidloader Attachments/Racking: (10) NEW 72 in Wolverine Hydraulic Skidloader Brush Hog Attachment, (4) New Wolverine 72 in Rototiller Hydraulic Skidloader Attachments, (6) NEW Wolverine Skidloader Auger Set w/ 2 bits (12 & 18in), (2) NEW Wolverine 72 in Box...
Show more
Show Less