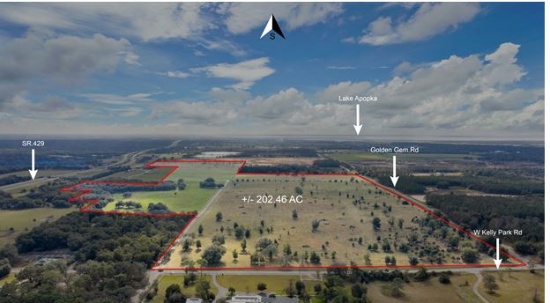 U.S. Bankruptcy Court Ordered Real Estate Auction
Bidding ends Tuesday, March 22, 2022 | 11:05 AM Eastern
Auction closed.
U.S. Bankruptcy Court Ordered Real Estate Auction
Bidding ends Tuesday, March 22, 2022 | 11:05 AM Eastern
Internet Premium:
3%
See Special Terms for additional fees
Description
AUCTION CANCELLED due to a global settlement and pre-auction sale of the property pursuant to a US Bankruptcy Court Order!

202.5 Acres at the Exit of Kelly Park Road and ST 429, FLORIDA

Seeking STALKING HORSE BIDS CONTRACTS until February 11 @ 5:00pm, EST

Complete details, forms required, and information are available on the auction specific website here....
https://www.ewaldkellyparklandauction.com

PROPERTY FEATURES
4105 Golden Gem Road,
Apopka, FL 32712
Located in the City of Apopka, Orange County, Florida
-PIN: 13-20-27-0000-00-023
-202.5 acres
Currently zoned Ag-Agricultural
Future Land Use: Kelly Park Mixed Use
Form Based Code Overlay: Kelly Park Road Interchange District
@1342' Frontage on Kelly Park Road
@2603' Frontage on Golden Gem Road
@1685' frontage to SR429
Just South of Advent Health site
Duke Energy Electric

MORE INFO TO BE PROVIDED
Distances to:
Mt. Dora 8.1 miles
Lake Mary 22.5 miles
Orlando-Downtown 27.5...
Show more
Show Less
Pursuant to an Order in the US Bankruptcy case of Rochelle Holdings XIII, LLC., Case No. 6:21-bk-03216-LVV, Ewald Auctions has been authorized to sell this property at PUBLIC AUCTION!
202.5 Acres at the Exit of Kelly Park Road and ST 429, Apopka, Florida 32712
Accepting
STALKING HORSE BIDS
through Friday,February, 11, 2022 @ 5pm, EST.
Complete details, forms required, and information are available on the auction specific website here....
https://www.ewaldkellyparklandauction.com
PROPERTY FEATURES
-4105 Golden Gem Road, Apopka, FL 32712
-Located in the City of Apopka, Orange County, Florida
-PIN: 13-20-27-0000-00-023
-202.5 acres
Currently zoned Ag-Agricultural

Future Land Use: Kelly Park Mixed Use

Form Based Code Overlay: Kelly Park Road Interchange District

@1342? Frontage on Kelly Park Road

@2603? Frontage on Golden Gem Road

@1685? frontage to SR429

Just South of Advent Health site

Duke Energy Electric

MORE TO BE PROVIDED
Distances to:
Mt. Dora 8.1 miles

Lake Mary 22.5 miles

Orlando-Downtown 27.5 miles

Tampa-Downtown 98 miles

Disney 32.9 miles

Universal 27.5 miles

I-4 Sanford 18 miles

Orlando International Airport 38.6 miles

Orlando Sanford Airport 27.2 mile