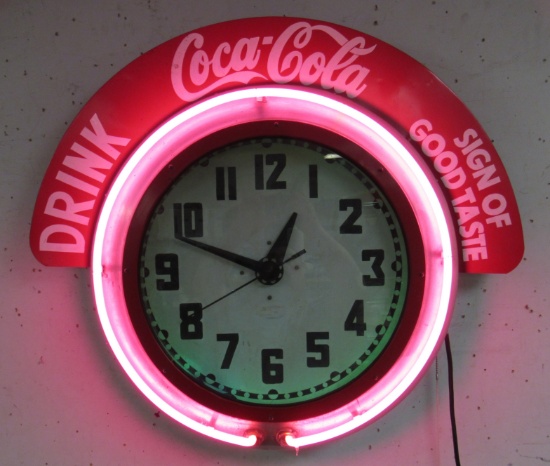 Huge Online Only Antique Auction Advertising ++
Auction closed.
Huge Online Only Antique Auction Advertising ++
Internet Premium:
15%
See Special Terms for additional fees
Description
Huge Selection. Very Diverse Sale, Something For Everyone. Great Advertising to Include, 5 Ft Coca Cola Bottle Sign, Other Coke Signs, Coca Cola Chicago Neon Marquee Clock, Other Light Up Advertising Clocks to Include Coca Cola, Pepsi, Dr. Pepper, Fern's Ice Cream & Others. More Signs to Include Goodyear Tires, Schwinn Bicycles and More. Other Advertising to Include; Thermometers, Tip Trays, Ash Trays, RCA Victor Chairs, RCA Victor Paper Mache Nipper Dogs, Gordon's Gin Snowman Store Display, Buster Brown Shoe Store Rug and More. Huge Selection of Pressed Steel & Tin Toys. Including Buddy L, Keystone, Marx, Wyandotte, Dayton & More. J. Chein Roller Coaster MIB. Coin Op Items; Holy Grail Bally Creature From the Black Lagoon Pinball Machine, Kicker & Catcher Football Trade Stimulator. Collection of Horror, Sci-Fi, & Pop Culture Items; 7 Ft Universal Studios Frankenstein Statue, Life Sized Star Wars Yoda Statue, 7 Ft Predator Statue, 4 Ft Sideshow Toys Frankenstein, Boris Karloff Frankenstein Autograph w/ Disney COA, Lon Chaney Wolfman Autograph w/ Disney COA. Tons of Other Interesting...
Show more
Show Less