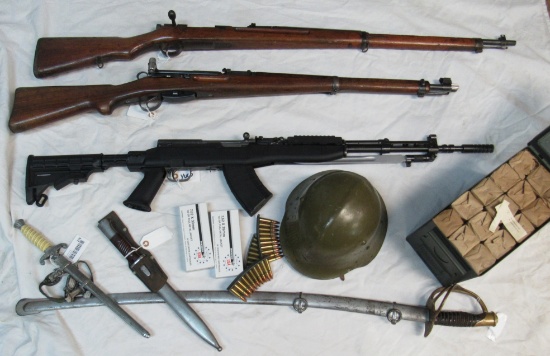 Huge Online Only Auction Military Firearms Ammo ++
Auction closed.
Huge Online Only Auction Military Firearms Ammo ++
Internet Premium:
15%
See Special Terms for additional fees
Description
Huge Online Only Auction Loaded with Military Items, Firearms, Ammo & More. Nice Selection of Firearms to Include YUGO SKS, 1860 Civil War Spencer Repeating Arms Saddle Ring Carbine, WWII Swiss K-31 7.5 Rifle (all matching #'s), Several WWII Russian M91 Mosin Nagant 7.62 x 54 Rifles, 1878 Dreadnaught Spur Trigger .32 Revolver, Iver Johnson .410, 1812 French Maubeuge Flintlock Pistol, Early 1800's Tower GR Black Powder Pistol, Several Japanese Arisaka Rifles, Remington Model 14 Bolt 22, High Standard Double Barrel 22 Derringer, and Much More. Large Quantity of Factory AMMO, Including 7.62x39 SKS or AK-47, 40 S&W, 8 mm Mauser, 375 Win, 7.62 x 54r Russian, 7.5 x 55 Swiss, 9mm, and More. Great Collection of Military Artifacts. Including Bayonets, Daggers, Fighting Knives, Swords, Helmets, WWII Nazi Relics, Medals, Buttons, Patches, Photographs, Insignia, and More. Postcards, Ephemera, Magazines, Yardlong Platoon Photographs, Uniforms, Trench Art, Inert Grenades, Large Caliber Dummy Rounds, Postcards. Lots of Accessories, Rifle Slings, Ammo Pouches, Bandoliers, etc. This is a Loaded...
Show more
Show Less