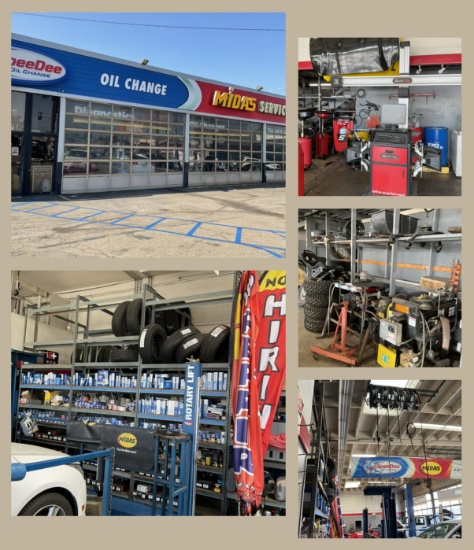 Speedee Oil Change & Midas Service Center Shops
Lots start closing Saturday, May 21, 2022 | 9:00 AM Pacific
Until lots start closing.
Speedee Oil Change & Midas Service Center Shops
Lots start closing Saturday, May 21, 2022 | 9:00 AM Pacific
Until lots start closing.
Description
Rotary Car Lifts model QL12N001, American Lube reels with hoses and attachments, Samsung 40" TV with remote , LG 55" TV with wall mount & remote , Computer systems, Dell Computer with Monitor, Logitech keyboard, & Genius mouse, HP monitor, Dell computer, Staples keyboard, mouse, Fist Data FD200 credit card systems, flat screen TVs Ammco Car Lifts, Industrial jacks, Toshiba 32" TV with wall mount & remote control, Under hoist stands, fire extinguishers, 1 Crush Master oil filter crusher model CM-1, Hydraulic service jacks, Coats Rim Clamp electric tire changer model 9024E, John Bean VPI System II digital computer wheel balancer machine model EEWB503A, 53" x 36" metal display rack with plastic tubs & assorted wheel weights, Champion Advantage Series 7.5HP vertical air compressor, Tire changer model TC-950-TX, Pneumatic engine oil extractor s, Cheetah Bead Seater & Slick mounting lubricant, Protemp PT-24-DDF- B High Velocity drum fan, Promotional Banners, Wheels, tires, feather flags, 55 gal drums, Huth HB10 tube bender, Eastwood pipe notcher, Ammco brake...
Show more
Show Less