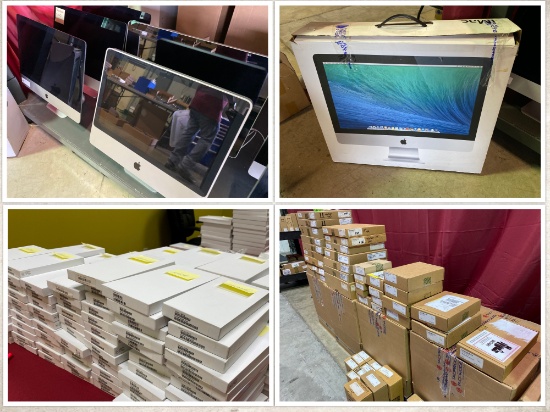 Escobar Solutions, Inc. d/b/a Proactechs
Auction closed.
Escobar Solutions, Inc. d/b/a Proactechs
Description
Assorted Apple iPhone and Mac parts for various models including hardware, speakers, batteries, cameras, displays, faces, backs and tool kits specific to Apple product repair. Assorted Models of New and Refurbished iPhones in box (iPhone 6, iPhone 7, iPhone 7+, iPhone 8, iPhone 8+, iPhone X, iPhone XS, iPhone XS Max, iPhone 11, iPhone 11 Pro), MacBooks, iMacs, iPads, New iPhone accessories, New Apple Watch accessories and much more.

Inspection is available Mon, September 21st from 10AM to 2PM and by appointment only.
(visit moeckerauctions.com to schedule an appointment).
Full Payments due by Thurs, September 24th at 4PM.
Pick-up | Removal location: 1883 W State Road 84, Suite 106, Florida, FL 33315.
Removal: 09/24, 09/25 and 09/28 from 9 AM to 4 PM (appointment required).
Buyer is responsible to pick up or arrange to have items picked up by the allotted time.
**** WE DO NOT PACK OR SHIP. ****

Auction Subject to Terms of Sale.
17% Buyer's Premium will be added to all winning lots.
PLEASE READ FULL TERMS AND CONDITIONS OR...
Show more
Show Less