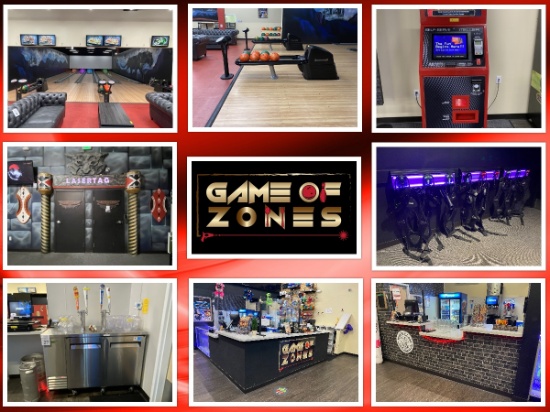 Game of Zones
Thursday, March 25, 2021 | 10:00 AM Eastern
Auction closed.
Game of Zones
Thursday, March 25, 2021 | 10:00 AM Eastern
Description
Family entertainment center equipment featuring state-of-the-art bowling lanes, laser tag arena, food service equipment and so much more!

> Inspection is available Wednesday, March 24th from 10am - 4pm by appointment only.
(www.moeckerauctions.com to schedule an appointment).
> Full Payments due on Friday, March 26th by 4 PM.
> Pick-up location: Boca Raton, Florida.
> Removal: 03/26, 03/29, 03/30, 03/31, 04/01, 04/02 and 04/05 from 9 AM to 4 PM (appointment required).
> Buyer is responsible to pick up or arrange to have items picked up by the allotted time.
> Auction Subject to Terms of Sale.
> 18% Buyer's Premium will be added to all winning lots.

PLEASE READ FULL TERMS AND CONDITIONS OR CALL OUR OFFICE IF YOU HAVE ANY QUESTIONS.