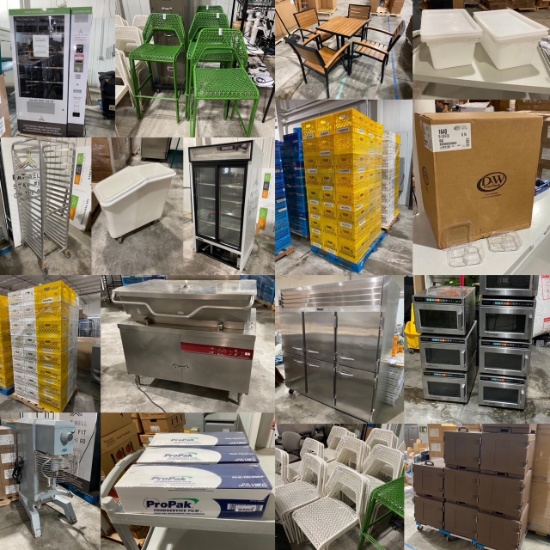 Eat-Fit-Go Restaurant Equipment Liquidation Omaha
Auction closed.
Eat-Fit-Go Restaurant Equipment Liquidation Omaha
Description
Eat-Fit-Go HQ has closed a few brick and mortar locations and will be expanding their E-Commerce operations. Therefore, we are assisting in the liquidation of a lot of high quality, late model restaurant, food service related equipment, fixtures and furniture.

Online bidding only. Bidding open now, bids begin to close on Sunday June 13th at 6pm.

Eat-Fit-Go Food Service Equipment Liquidation
High Quality, Late Model Food Service and Restaurant Equipment, Fixtures and Furniture

Everything Sells Regardless of Price!
Gourmet Food Vending Machine, Reach-In Refrigerators, New Cases of Drink Carriers, Cups, Deli Containers, Catering Pan Carriers, Stand Mixer, Indoor/Outdoor Chairs & Bar Stools, Patio Tables, Smallwares, Tables, Shelving, Commercial Microwaves, Bulk-Food Mixer, Tilting Braising Skillet and Much More

**Bidding Open Now, Bids Close Sunday June 20th at 6pm**

Auction Preview: Tuesday June 8th 3:30pm to 4:30pm
Auction Pickup: Tuesday & Wednesday June 15th & 16th - 11am to 5pm.

Preview and Pickup...
Show more
Show Less