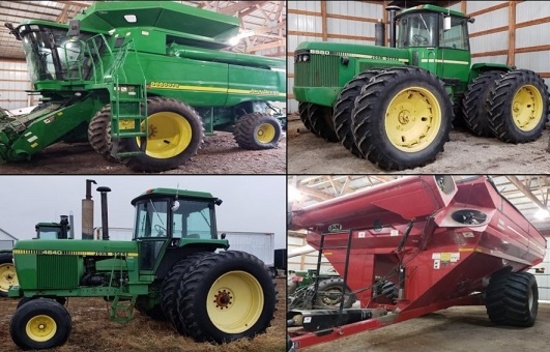 Retirement Farm Auction - Johnson
Bidding will begin soon!
Description
PROXIBID CRASHED!!!!

We apologize for any inconvenience and appreciate your patience.

The John Johnson Retirement Auction will start from the beginning tomorrow, Friday, March 31st at 10am, pending Proxibid has corrected their issues.


JOHN AND MARLA JOHNSON

772 147th Street, AVON ILLINOIS 61415

Located 8 miles east of Roseville or 50 miles west of Peoria on Route 116 to 147th St. then ¾ mile north.

This is a Timed Online Auction. There will be no live onsite bidding. Bidders must register with Proxibid to participate in the Auction.


Bidding will close on Thursday, March 30th at 10 am.


INSPECTION DATES: Sunday, March 26th from 1 to 4 p.m. and Wednesday, March 29th – 11 a.m. to 4 p.m.


PAYMENT & PICK-UP: Thursday, March 30th from 1 to 5 p.m. and Friday, March 31st from 9 a.m. - 3pm.


For equipment questions please call John @ 309-221-9914.


Auctioneers: Van Adkisson 309-337-1761 and Jeff Gregory 309-337-5255
Internet Bidding:...
Show more
Show Less